A men's professional leather backpack for work and travel

Luke Case offers a budget work leather backpack that doesn't skimp on style with the vintage crazy horse leather backpack. As a business backpack, the vintage crazy horse leather backpack packs a punch with a full-grain leather exterior, roomy main compartment and plenty of pockets for organization. This vintage leather backpack has an exquisite ancient brown color which brings out its contemporary vibes. With time, this crazy horse leather backpack will only look better instead of worn out, and will still retain its toughness, it is a great choice for those who want a compact and rugged business backpack for daily work commutes.
For frequent business travelers, the vintage crazy horse leather business backpack fits under most airline personal item backpack size restrictions and can easily fit under airline seats. The backpack also includes a zippered pocket against the back panel that stays hidden when you wear it. This is the perfect spot for stashing a wallet, passport or other valuables when on the move.
Please allow little color difference due to different cameras or light environments.
Features:
The backpack exterior is made out of Crazy Horse leather, Crazy Horse leather is the best and highest grade full-grain cowhide that is commonly used to make horse saddles. (This crazy horse leather is known for its durability, toughness and ability to take scratches and scuffs like a champ. In fact, crazy horse leather is known for its natural patina that changes the texture and color of the bag over time. This is what gives it that worn-in "vintage" look.)
The backpack outside you are greeted with even more pockets for organization. The front and side pockets are perfect for packing smaller items you need easy access to like a wallet, phone or keys.
The backpack inside is where you'll also find a padded sleeve for a tablet or small laptop and multiple slip pockets for organizing smaller items. For someone looking to carry just their work essentials, the Luke Case Vintage Crazy Horse Leather Backpack really gets the job done.
Under a 20L capacity: the vintage crazy horse backpack has a slim design with 20L capacity while still offering enough organization for your daily essentials. Despite its small profile, The main compartment is surprisingly roomy enough to carry multiple notebooks, magazines and business papers in addition to a variety of personal items.
The cut of this leather is thick and soft, the stitching is precise and tight, no loose strings or loose-fitting fabric. It holds its structure very well, all the exterior pockets keep their structure even when empty.
The zippers and buckles on the pockets are high quality and feel very sturdy. Since the leather is thick and structured the leather straps fit nice and snug in the buckles and they don't loosen on their own.
Unique design with classy looking of the crazy horse leather backpack, which makes it perfect for any occasion with any outfit, no matter for school, work, trip or business; it also can be a great gift.
If you are looking for a super polished business backpack then you may want to pass on the Luke Case Vintage Crazy Horse Leather Backpack. Adding this Vintage Crazy Horse Leather Backpack to your shopping cart now, and you can take advantage of free shipping along.
Material & Dimensions:

Made of High-quality Crazy Horse Full Grain Leather.
Dimensions: 11.2" x4.8" x 15.4" (28cm x 12cm x38.5cm).
External structure: 1 × front zipper pocket, 2 × side zipper pockets, and 1 × back zipper pocket.
Internal structure: 1 × 14" laptop compartment, 1 × zipper pocket, and 2 × small pockets
Model Number: MRT-8873
Weight: 1.70kg
Capacity: Less than 20L
Lining Material: Polyester
WHAT IS CRAZY HORSE LEATHER
Crazy horse leather belonging to superior leather, it is made by applying a thick layer of a special type of wax to a full-grain cowhide surface that has been smoothed and polished to give it a shiny and smooth feel. This gives it a timeless appearance that ages beautifully over time, to increase the vintage look that Crazy Horse Leather is known for. Know more about what's crazy horse leather.
Warranty: LukeCase provides outstanding products and a wonderful buying experience. If you are not satisfied with our product or service for any reason, please reach out and we will attempt to resolve any issues and ensure your contentment.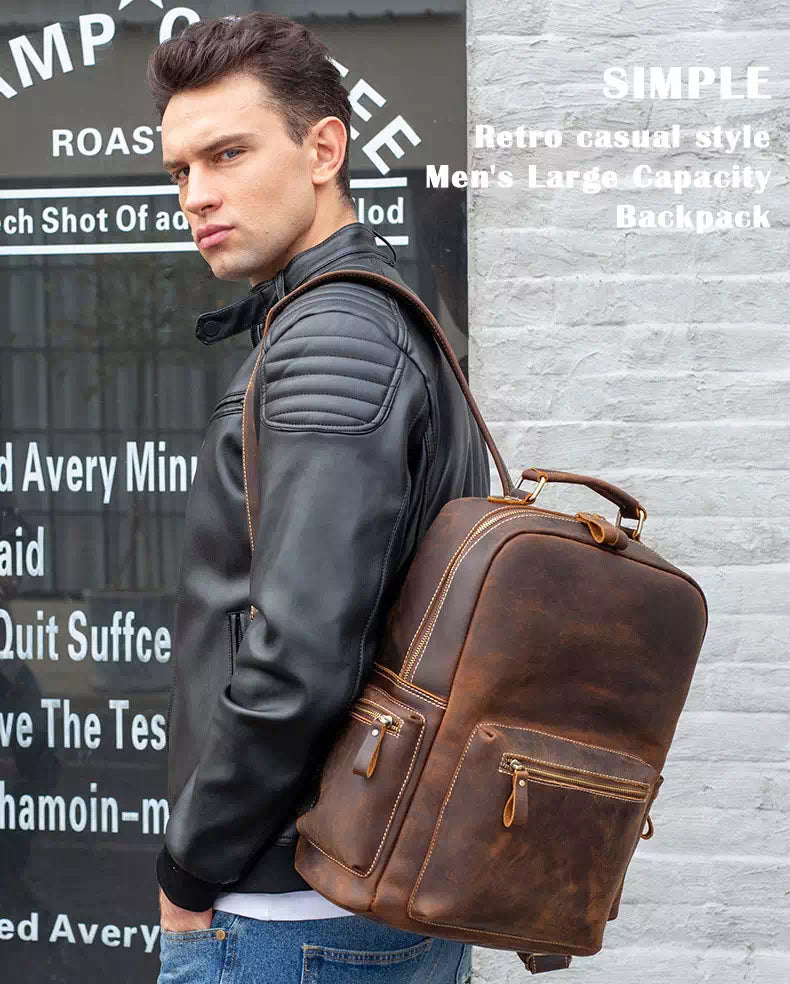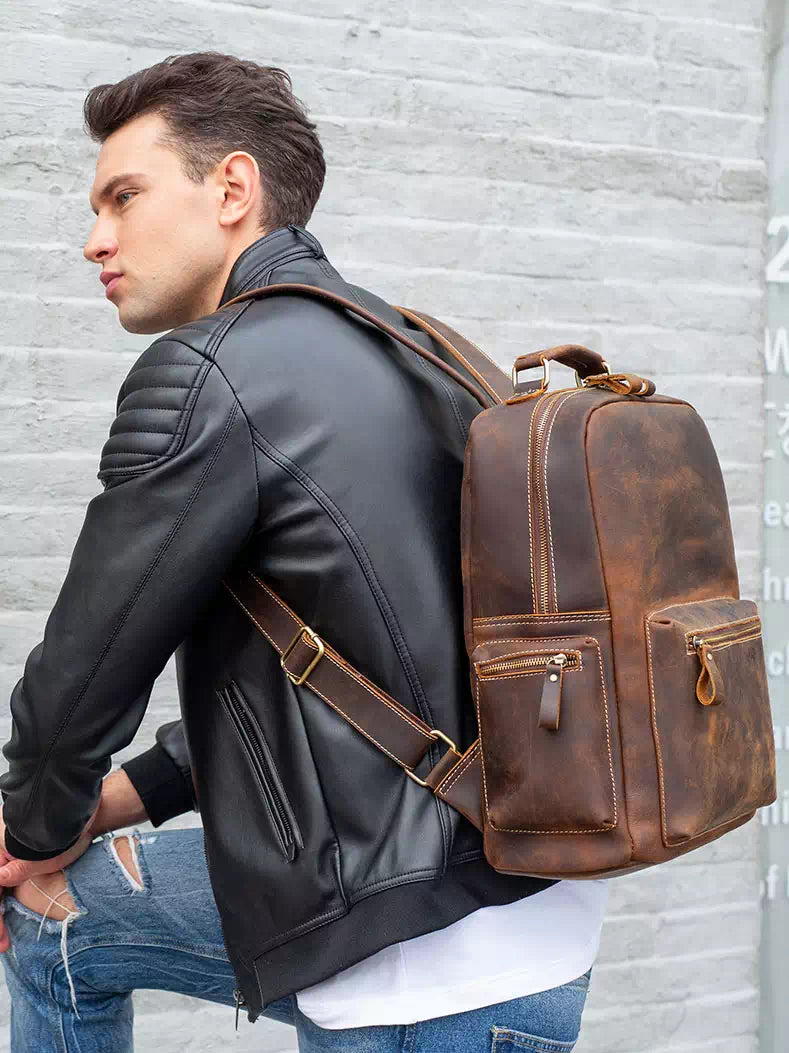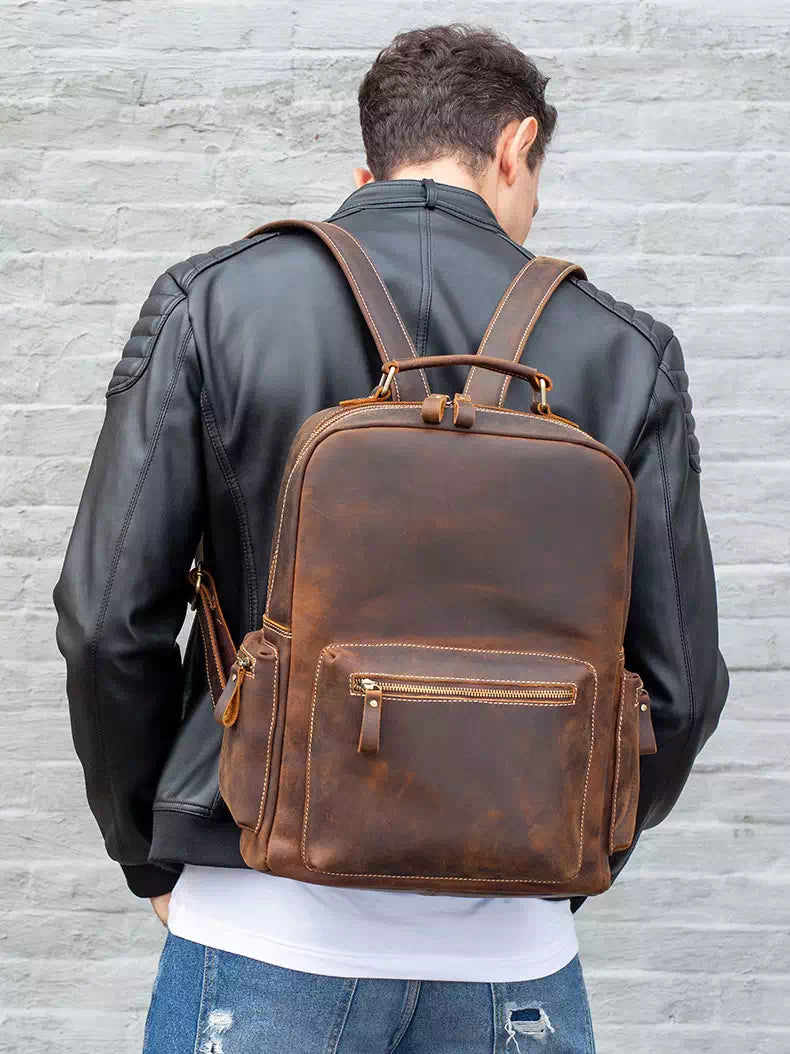 Please allow little color difference due to different cameras or light environments.
LukeCase is specialized in simple but utility, classical but fashionable bags. High-quality materials, elaborate craftsmanship and multipurpose design, this is the most important pursuit of LukeCase. Every bag you received has been through hundreds of procedures to ensure its excellent quality.
Warm Prompt
Cow Leather has a natural smell, but it will disappear in a few days exposed to outside.
1-2 cm error of measuring is a reasonable range due to different measurement methods.
Please allow little color difference due to different cameras or light environments.
Amazing product with a great company behind it
I ordered a backpack for my father for Father's Day, I was of course late on ordering it. Reached out and asked if they could rush it for me to get it in time. EVEN with everything going on now a days they not only got it here a week before Father's Day my dad was blown away by the quality of his backpack. He loves it. It says a lot about a company that will go out of there way and do there best to make there customer happy.