FREE SHIPPING TO the US: 2-5 workdays!

LukeCase leather fanny pack is made of high-quality sheep leather and a unique design with a classy looking is perfect for traveling the world or just going downtown. There are black and white leather fanny packs to choose. For things you want to keep a little more private, there is a zippered back pocket to keep things safe.
Features:
High-Quality Leather Fanny Pack: our leather waist bag is made of the top layer cowhide leather material and solid smooth zippers, it is very durable, light-weight and long-lasting usage.
Multiple Ways to Wear: our leather fanny pack features a comfortable and adjustable long strap(strap length is 29.9"-41.7"), so it can be as a waist bag that wears in front of your waist(Anti-theft and easy), and it can also be a sling bag or shoulder bag that across your chest or over You shoulder(looks casual and fashion). Perfect for various occasions.
Leather Fanny Pack Space Structure: Our men and women's leather fanny pack's dimensions are 11.81" x 4.72"(30cm x 12cm), our leather fanny pack have 6 zipper pockets, 1 × main zipper pocket, 2 × side zipper pockets, 2 × front zipper pockets and 1 × back anti-theft zipper pocket; holds a lot and the multiple zippered compartments keep everything organized and your belongings safe.  Our fanny pack's zippers are smooth and durable, the fanny pack's strap is comfortable and adjustable, its length is 29.9"- 41.7".
Enough capacity and fashion design fanny pack: our fanny pack can easily hold the most needed items with our leather fanny pack, include most size phones, passports, keys, ID cards and other items. Perfect for various activities such as shopping, traveling, walking, cycling, hiking, party, festival and so on. It is a great gift for wife, husband, friends, and family.
Best Gifts for Women & Men, if you are looking for a gift for your friend, wife or husband, our leather fanny pack is a good choice, this waist bag is made of luxurious genuine leather and beautiful design, it will be a great gift for men and women.
Material & Dimensions:
Made of high-quality genuine sheep leather
Lining Material: Polyester
Dimensions: 11.81" x 4.72"(30cm x 12cm)
Shoulder Strap Length: 29.92"-41.93" (76cm-106cm)
Weight: 0.3kg
Model Number: MRT-8879
Warranty: LukeCase provides outstanding products and a wonderful buying experience. If you are not satisfied with our product or service for any reason, please reach out and we will attempt to resolve any issues and ensure your contentment.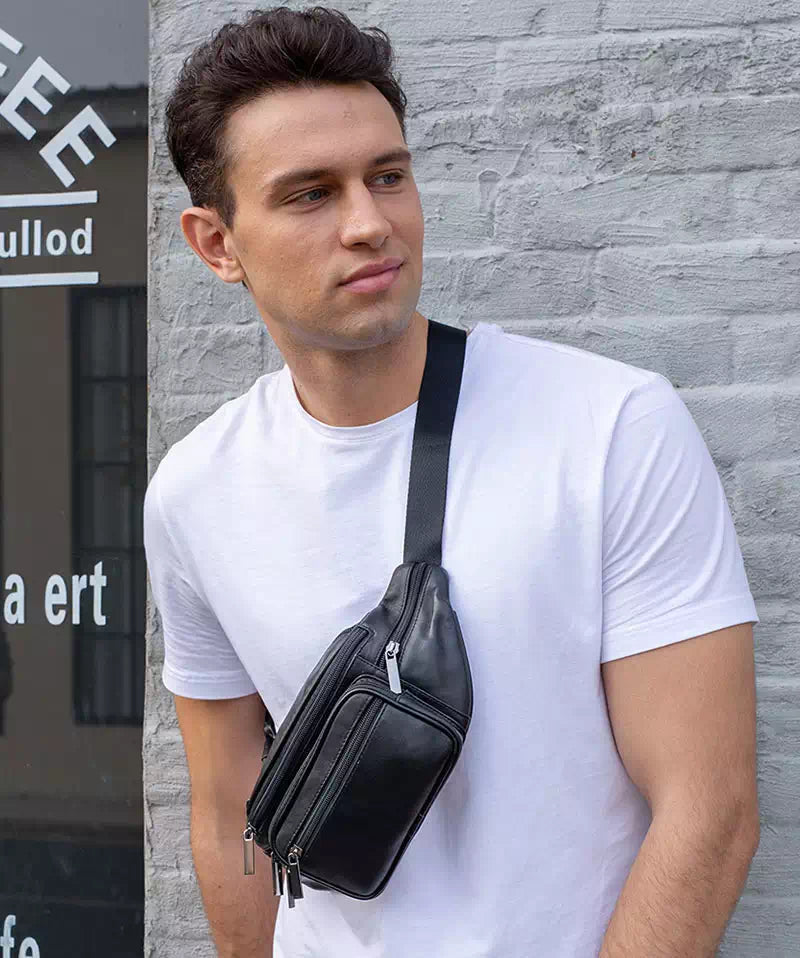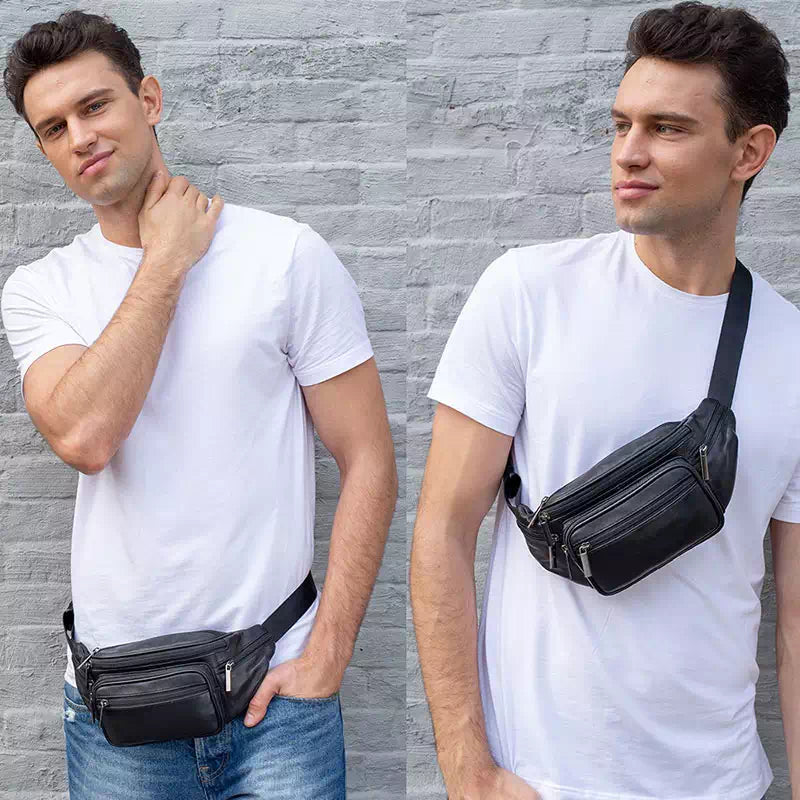 LukeCase is specialized in simple but utility, classical but fashionable bags. High-quality materials, elaborate craftsmanship and multipurpose design, this is the most important pursuit of LukeCase. Every bag you received has been through hundreds of procedures to ensure its excellent quality.
Warm Prompt
Cowhide Leather has a natural smell, but it will disappear in a few days exposed to outside.
1-2 cm error of measuring is a reasonable range due to different measurement methods.
Please allow little color difference due to different cameras or light environments.
---
Fanny packs are one of the best bags to travel with. These practical fanny packs for men and women are not only big enough to hold travel essentials like your phone, passport, and wallet, but they allow you to do so hands-free — which means you can do more important things like snap the perfect travel photo or enjoy a gelato while sightseeing.
In the market for a spacious option that can hold more than just the essentials? This fashion leather fanny pack has a clean and simple design that will easily transition from early morning hikes to late-night dinners. The leather waist bag's waistband is fully adjustable, and the durable leather material will last for years to come. It is praised "practical, stylish, and well constructed" design by most shoppers; and you can wear a fanny pack the classic way around your waist, sling it over your shoulder as a shoulder bag, or take the more modern, fashion-forward approach and wear it as a crossbody bag.
What's a fanny pack?
A fanny pack, also known as a waist bag or bum bag, is worn around your waist and designed to hold smaller objects and daily essentials. Unlike a Belt Bag, the bag portion of a Bum Bag is often not detachable from the belt, and it can be made from a wider variety of materials. And Luke Case's fanny packs are all made of high-quality cowhide leather, they are a good choice for you.
Why do you need a fanny pack, here are some benefits of a fanny pack:
1. Allow you to do so hands-free
Whether you're traveling, need your hands free while juggling kids or groceries, or out for a run, the waist pack can handle it. Beyond whatever activity you can think up, a waist pack actually looks cool and go beyond its multi-functionality.
2. Carry more things what you need
Usually, fanny packs are small but with multiple compartments. The main compartment is roomy enough to accommodate the cellphone, small purse, passport, and other vital items. It can have pockets in the front and the back. You can put coins, keys, and other small items in your pockets. They are useful in protecting delicate items such as phones from scratching.
3. Protect your items
Luke Case fanny pack is made of high-quality cowhide leather features anti-abrasion and durable, it can protect your items against moisture, sweat, and raindrops.
4. Fit for a wide range of activities
Our leather fanny packs have an adjustable strap. It can fit almost every user. Moreover, you can use it as a bum bag, single shoulder bag, fanny pack, or sling bag. It can be used in a wide range of activities. For instance, it is ideal for runners, hikers, trainers, hunters, bikers, and campers.
5. Lightweight
Our leather fanny packs are lightweight, you can easy to carry it for walking, hiking and shopping.
How to wear a fanny pack?
You can wear a fanny pack on your front so you can easily grab what you need. You can also wear a fanny pack in the back, over your bum.
Thirdly, you can wear your fanny pack across your chest, making a fanny pack a hybrid shoulder bag.

Nice leather
The clip doesn't withstand the pressure and unclicks!
Love it!
The bag is high quality leather and very well made.
Love them
I bought a black one and a white one, so I can wear them with anything!
Thanks for your review, but why do you leave a one star?
It's a great Fanny pac -well made, good size pockets
I am pleased with my new Fanny pack and even ordered another for my husband!I hope. He will use instead of his pants pocket!!!
Black leather Fanny pack
Lovely well made wish it was just a touch bigger but I use it every day at work. I am an Ob GYN and it holds my 2 work phones, small wallet, pager, pens etc so my pants don't fall down from the weight of all the s**t I have to carry!